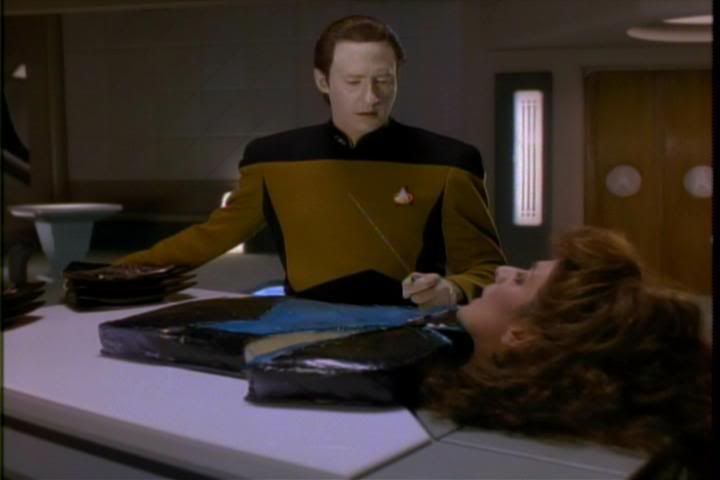 Rachel had always been a unique sort: active in two sports in middle school and high school; great grades, and at a fantastic college to boot; but nonetheless into the nerdiest of things. For her birthday, she was adamant that she had a Counselor Troi cake--with the internal consistency of
Star Trek: The Next Generation
's cellar peptide dream cake. (She briefly considered asking for Riker brain shakes to pair with the dessert, but wisely decided against it.) For Christmas in 2007, Rachel was floored to receive an autographed 8x10 of Ernie Hudson in full Ghostbuster regalia; it was signed "Bustin makes me feel good! --Ernie!" (No one was quite clear why the esteemed actor signed with an exclamation point after his name, though it was generally assumed by Rachel's parents that Mr. Hudson was simply happy to be doing something.)
Rachel even had been to a few local comic cons as a young adult. It started with a particularly sad affair at the Manahawkin Holiday Inn, where diabetics and
pre
-diabetics sat in a room hawking old Phantom Lady comics and pewter hardly-collectable B-wings. Things picked up from there, with one highlight being seeing the original Boomer from the original Battlestar Galactica. He was older now, smelling of the unique scent of lima beans kept in three-day-old orange rinds, but Rachel didn't care. She had long ago resigned herself to the fact that her pop culture interests were set in a fading past. And she loved it all.
The great goal, though, was always Comic Con--
the
Comic Con, in New York. There was, in Rachel's twenty-second year, a fortuitous set of events which finally sent her off to that great nerdatorium in the west. First, her maternal great-uncle died; though she hardly remembered the man, he had remembered her to the tune of $4,000 in his will. Second, she had just paid off her 8 year old Toyota Yaris, and thus felt unencumbered to spell the newfound money a bit frivolously. Third, the money came through, with a cosmic sort of flare, the very morning before Comic Con registration began. Rachel took at as her twin suns moment: surely there were college bills to pay, but those would have been covered by her job waiting tables at the local Shennanigans. It was time to fire into the proverbial exhaust port, and go for it.
The force indeed was with her: the four day pass was obtained, as was a moderately overpriced hotel room within walking distance. But that was not all, of course. Though every comic con of every size has inhabitants who dress in form-fitting latex and the sort (whether their bodies can handle such a challenge or not), this was the big time, and Rachel's physique was more than up to the task.
For her, the answer was easy. After all, there is only one female role model in all of geekdom who has demonstrated courage under fire, smarts, grace, wit, and beauty--one who was both noble and common at the same time. And thus there was really only one costume for Rachel to wear. She bought the best, wanting to make an impression with both her youthful exuberance for science fiction and lithe body... and after all, there was still a little of late, Great Uncle Patrick's money left.
Thus it was that, on Rachel's first day at New York Comic Con, she stepped into one of the changing rooms near Hall Q. She was a bit nervous--one rarely dresses in such a way, though she was buoyed by seeing a Jango Fett, a Captain Picard with hair, and one very impressive Poison Ivy.
Thus it was that Rachel stepped forth onto the convention floor, wearing her (supposedly) originally-conceived costume idea of Slave Leia.
"Crud!" she exclaimed, surveying the floor.
Rachel had always thought herself a unique sort, which usually she was--though unfortunately, at Comic Con, Slave Leias are a dime a dozen.